Want to walk amongst ancient Egyptian statues? Or stare into iconic original paintings by Van Gogh and Picasso to ponder how or why they were painted?
Head to The Museum of Fine Arts, Houston (MFAH), Houston's largest and most high profile art museum, which hosts more than 63,000 works of art.
With some 300,000 square feet of indoor and outdoor gallery space, it's one of the largest in the country. And all of its elegant indoor galleries are spectacularly air-conditioned — essential for protecting artwork. You may want to bring a sweater or light jacket, especially in the heat of summer when clothing tends to be the lighter side.
MFAH holds its own a vast collection, which it displays on a rotating basis, and hosts traveling exhibits, for which it often co-curates with other major museums, such as the Metropolitan Museum of Art in New York and the National Gallery of Art in Washington, D.C. These are the blockbusters that get advertised big-time around town. (Advanced ticket purchase recommended for these exhibits).
Art in MFAH's own collection spans nearly every continent and every era, from artifacts from Ancient Greece and Rome to recent contemporary works from around the world.
Looking for ways to engage with art? Check out the museum's ever-changing roster of films screenings, performances, talks and tours.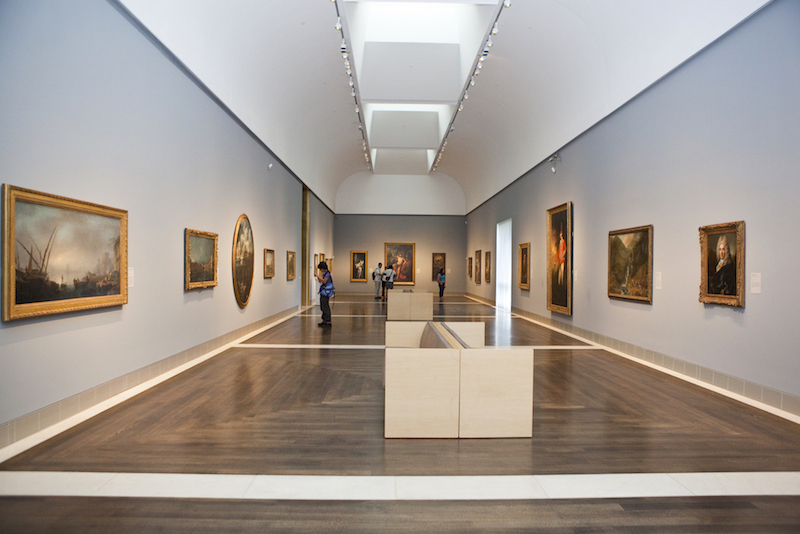 The Lay of The Land
The two main art buildings in the MFAH's main Museum District campus are the modern Audrey Jones Beck Building and the iconic Carolyn Weis Law building, whose Bissonnet-facing, curved glass and steel façade was designed by Mies van der Rohe.
Across the street, the Nancy and Rich Kinder Building is now underway and is slated for completion in late 2019 will display modern and contemporary art.
Audrey Jones Beck Building
Upon entering the ground floor of the sleek, stone-front Beck building, visitors can explore the marquee changing exhibits, typically staged in the two large galleries on the main floor. Additional permanent exhibits of Antiquities, art and artifacts from several centuries B.C. and the first 1000 years A.D., and American Art, dating from 1800 to 1970.
Up on the second floor, ponder even more Antiquities, plus European art from the 1200s through the 1940s. See renowned works, such as Claude Monet's Water Lilies, displayed in the Shell Oil Gallery, or Gustave Caillebotte's The Orange Trees, displayed in the Beck Galleries
Down on the lower level check out two more galleries, which are dedicated to changing exhibitions. This level connects to the Carolyn Weis Law Building via James Turrell's mesmerizing tunnel experience, The Light Inside.
Carolyn Weis Law Building
The glass-and-steel-front Carolyn Weis Law Building showcases art from numerous cultures and countries. The upper floor includes just one changing exhibition gallery and offers permanent displays of African Art, Asian Art, Native American Art, and two galleries dedicated to the fascinating figures and forms of Pre-Columbian Art.
The ground floor features one gallery dedicated to Oceanic Art, the art of native peoples of a range of Pacific islands and Australia (pretty much anywhere a season of "Survivor" has been located). The shimmering Indonesian Gold exhibit on this floor is draws many visitors, who also discover the captivating art of Korea, India, Japan, China and the Islamic world, located on the ground level as well.
Down on the lower level, explore Native American Art, plus highlights of the MFAH's photography collection and various works on paper. This level connects to tunnel Audrey Jones Beck Building via the tunnel. 
The Light Inside Tunnel by James Turrell
One of the museum's most popular and fascinating spots is also one of its most practical. Commissioned by MFAH, artist James Turrell created a glowing, sometimes hypnotic, space out of an underground tunnel that connects the museum's two main buildings.
Photos—especially flash photos—are prohibited. Although there is typically a guard on duty, there are countless unauthorized photos of this striking hallway and its ever-so-slowly changing LED hues, on many a smart phone.
Cullen Sculpture Garden
Across Bissonnet Street, where the MFAH's campus is expanding, lies the Cullen Sculpture Garden. Celebrated architect/sculptor Isamu Noguchi designed this peaceful space as a "sculpture for sculpture," as he described it.
The garden offers a rare chance to appreciate iconic 20th- and 21st-century sculpture by artists such as Henri Matisse and Auguste Rodin. This outdoor gallery and garden is free and open to the public seven days a week, although it closes at 10pm nightly.
MFAH Films, MFAH Mixed Media & Other Programming
In addition to the large, curated signature exhibits that rotate out throughout the year, the museum hosts a number of popular events, pop-ups, classes, and more.
Throughout the year, MFAH Films holds ongoing series of film screenings and annual film series, including Movies Houstonians Love. Films run the gamut and frequently tie into current exhibitions. Most movies are screened in the Brown Auditorium Theater inside the Carolyn Weis Law Building. Visit the MFAH Films page for upcoming showings, ticketing information, and more.
MFAH Mixed Media happens a few nights each year, when the museum throws a late night party themed to a current exhibit. Featuring cocktails and musical performances by top talent, the seasonal ticketed events frequently sell out. Visit the MFAH Mixed Media page for future parties.
Every Thursday evening, the museum stays open until 9pm and hosts the popular MFAH Happy Hour Thursdays, featuring DJ tunes, drinks, and food truck bites from 5pm to 9pm. Admission is always free on Thursdays.
You'll also find an ongoing series of classes, workshops, and learning opportunities for adults, kids, students, and more.
Guided Group Tours
With so many works of art and display space, it's no wonder many visitors find the museum's multiple buildings and city blocks intimidating, especially as the museum continues to add new structures.
Group tours, for 10 or more, or self-guided tours can be arranged in advance. See pricing and discount info on the museum's group tours page.
Tickets & Free Thursdays at The Museum of Fine Arts, Houston
Visitors can save time by purchasing tickets in advance. And note that for the museum buildings, general admission is free on Thursdays; however special ticketed exhibitions still require ticket purchase on those days.
Kids ages 12 and under always receive free admission. MFAH also offers discounts with proper I.D. for military personnel (active and retired), college students, senior citizens, and Bank of America cardholders (first weekend of each month).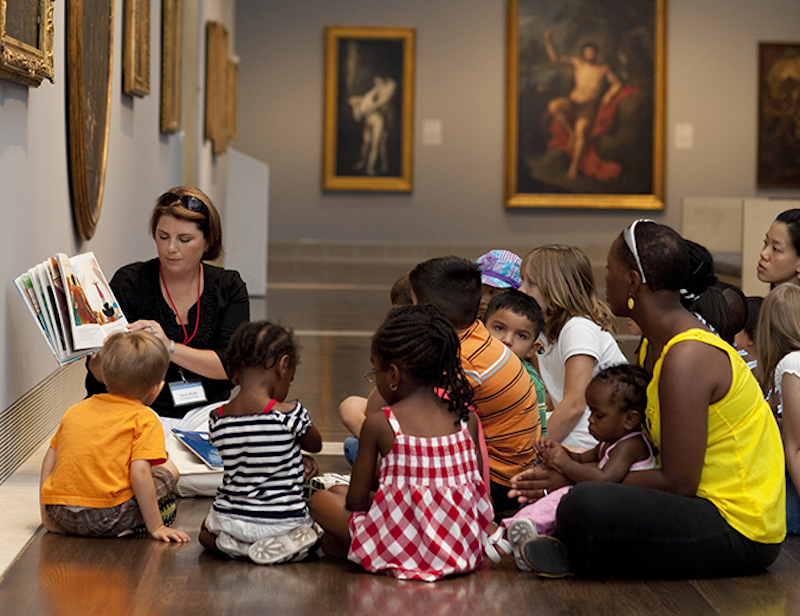 Parking & Getting to The Museum of Fine Arts, Houston
Parking is rarely easy in the Museum District, so take the MetroRail, an Uber, or ride a B-Cycle to avoid the hassle. Also, Metro Q Fare cardholders can get a $5 discount on tickets to the museum.
A B-Cycle station is conveniently located at Fannin and Binz. At MFAH, two garages offer parking for a fee, one is located on Montrose, one is on Fannin.
For additional details about parking and transportation, check the museum's page on the topic.
Museum of Fine Arts, Houston's Destinations in River Oaks
The museum also operates two decorative arts museums at separate locations, Bayou Bend off Memorial Drive and Rienzi off Kirby Drive, both former River Oaks estates.
Main Campus of the Museum of Fine Arts, Houston
Location: 1001 Bissonnet, Houston, Texas 77005
Phone: 713-639-7300
Parking: Garage parking rates start at $10 for up to 4 hours. See additional info above or check the museum's page on parking.
Admission: $15 for adults (19 and up), $10 for seniors and military, $7.50 for youth (13 to 18) and college students. Free for ages 12 and under.
Hours: 

Tuesday and Wednesday: 10am to 5pm
Thursday: 10am to 9pm
Friday and Saturday: 10am to 7pm
Sunday: 12:15pm to 7pm
Closed Mondays (except Monday holidays like Memorial Day and Labor Day) and on Thanksgiving Day and Christmas Day