Roll your windows down and get a look at a lawn filled with steel armadillos, metal mariachis, flying cows and more while cruising down TX-288 South at Texas Pipe and Supply Company's Eclectic Menagerie Park.
Located near TX-288 South just past W Bellfort Avenue, the Eclectic Menagerie Park features a variety of handmade metal sculptures which line the edge of the Texas Pipe and Supply Company's 108-acre pipe yard.
The collection began back in 1987 when Jerry Rubenstein, Chairman of the Board at Texas Pipe and Supply, purchased a single hippo sculpture from a statuary in El Campo, TX –and his collection has been growing ever since.
The open-air museum, which is only accessible while in transit, is a folk-art fantasia with re-purposed materials made into fantastical pieces such as a rhino, giant spider, eagle, a fishing pole reeling in a pickup truck, Snoopy flying a fighter plane, King Kong scaling a skyscraper, and even a prehistoric stegosaurus.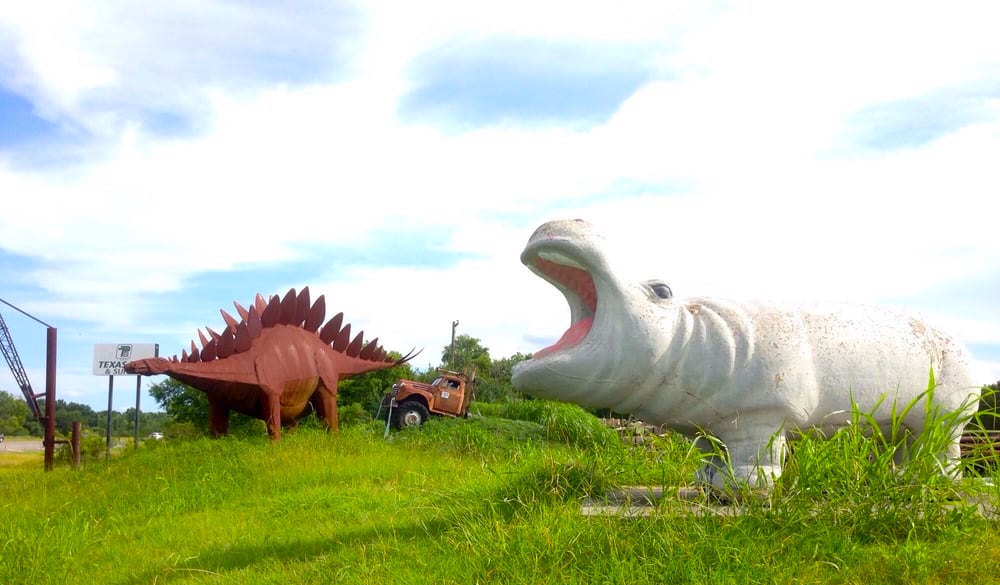 The Artists Behind the Eclectic Menagerie Park
Handpicked by the Rubensteins', many of these pieces are done by local artist, contractor, and designer, Ron Lee, as well as light metals artist, Mark Rankin.
Certified in nuclear pipe and rig welding, Lee has been designing for more than 40 years and has dedicated the better part of his career to Texas Pipe as a resident contractor, inventor, and sculptor.
Keep a look out for new work, too. The Rubenstein Family have always had a love for art and continue to encourage new and creative artworks to be displayed in the Eclectic Menagerie Park.
Before You Visit the Eclectic Menagerie Park 
Though these monuments easily make for a great photo-op to add to an Instagram or Facebook timeline, we remind you that this work is only accessible via vehicle traveling southbound on the TX-288 South freeway.
It is important to also note that these sculptures are located on Texas Pipe and Supply Company's private property and public access to the company's property is not allowed.
That said, to get the best view of the sculptures take TX-288 South and exit W Bellfort Avenue to drive alongside the Texas Pipe and Supply Company from the feeder where the monsters will be on your right less than a quarter of a mile away.
If you're coming from the south, take TX-288 North, exit W Bellfort Avenue, make a U-turn at the light, and follow the feeder to the creatures on the right.
We encourage visitors to please refrain from trying to snap a photo while behind the wheel and navigating traffic. Rather, if you are going to try to take the perfect photograph, we ask that you be careful, plan ahead, and bring a friend to snap the photo from the safety of the passenger seat.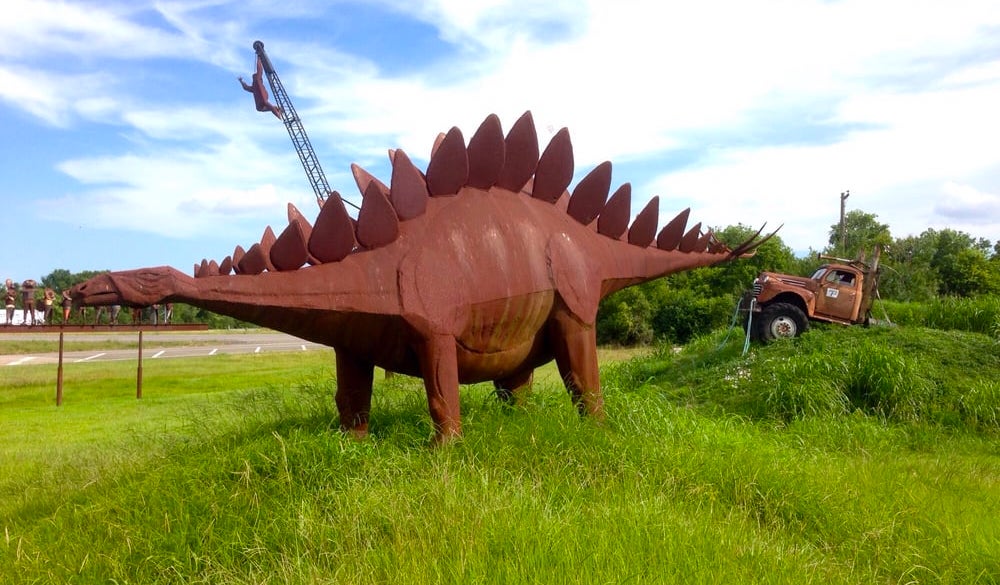 Eclectic Menagerie Park at the Texas Pipe & Supply Company
Artists: Ron Lee & Mark Rankin