In our Park Spotlight series, we take a closer look at Houston's vast array of public recreational areas to shine a light on hidden and not so hidden gems. This week we'll be spotlighting Gerald D. Hines Waterwall Park. Join us as we take a trip through Houston, park by park.
With the largest shopping mall in Texas nearby, over 700 retailers lining the streets, and ample opportunities to wine and dine, this luxurious neighborhood is easily known more as a shopping mecca and for its other must do things than its green spaces.
But facing just south of the Williams Tower next to the Galleria, the 2.77 acres Gerald D. Hines Waterwall Park has made a huge splash as one of the most photographed backdrops in the city.
The park serves as a community centerpiece in the Uptown District where many visitors come to enjoy a short walk, lazy picnic or break from shopping at the Galleria amongst nearly 200 live oak trees.
And while visitors may stick around for the lush green space, they first and foremost come to see the one-of-a-kind Waterwall.
The Waterwall
Created in 1985 by architect Philip Johnson and John Burgee, this sculptural waterfall, made predominantly by St. Joe brick, is a 64-foot, semi-circular fountain that pours water rapidly down its Romanesque limestone arches.
Thought to be one of the architecture world's most influential eccentrics, Philip Johnson has helped to define what we know today as Houston's structural character.
Created to be an architectural amenity to the adjacent Williams tower (which Johnson also designed), the Waterwall looks like a "horseshoe of rushing water," as the cascading fountain re-circulates 11,000 gallons of water per minute.
Notably, the striking fountain was built to 64 feet to symbolize the 64 stories of the Williams Tower and creates an unmistakable metropolitan waterfall as it recycles its entire 78,500 gallon supply every three hours and two minutes.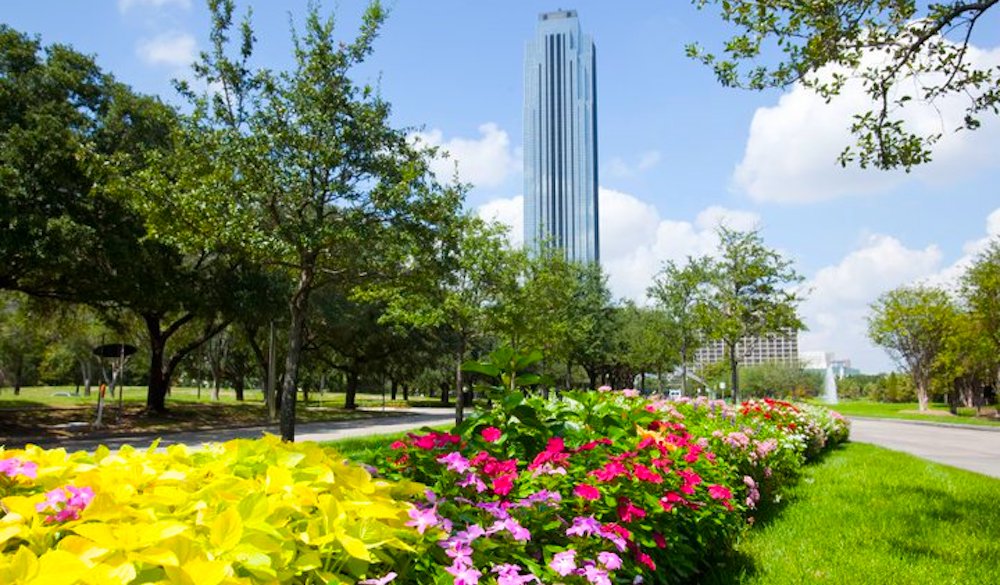 Park Rules
Though the park is generally lax and open daily to the public from 8am to 9pm, guests should note that glass containers, loud music, and climbing or playing in the Waterwall basin are strictly prohibited.
It would also be easy to make the mistake so it's worth it to mention that animals are not allowed to be unleashed and owners are asked to pick up after their pets.
Click here for a complete list of park rules.
Gerald D. Hines Waterwall Park 
Additional research and reporting by Vagney Bradley.