Shop a unique selection of custom-fitted, vintage-inspired clothing, handmade jewelry, vintage cowboy boots, and more at My Flaming Heart in Midtown
Located off the Ensemble/HCC MetroRail stop in Midtown, this quaint boutique, owned by designer Judy Masliyah, has been paying homage to the Lone Star State since swinging open its doors in 2010.
Expect to find a mesmerizing collection of contemporary Texican and Mexican folk art, antique curiosities, taxidermy oddities, trinkets, and charms, all packed into the shop's modest 1,100 square feet.
There's plenty to peruse, given the overwhelming selection of white elephant-ish gifts, revolving folk art shows, ready-to-wear clothing for women and men, pick-your-pattern dress tailoring, and oh so many beads.
If you do leave empty-handed there's still plenty of fun to be had while in the heart of Mid Main. Check out the many nearby attractions that made our list of Must Do Things in Midtown.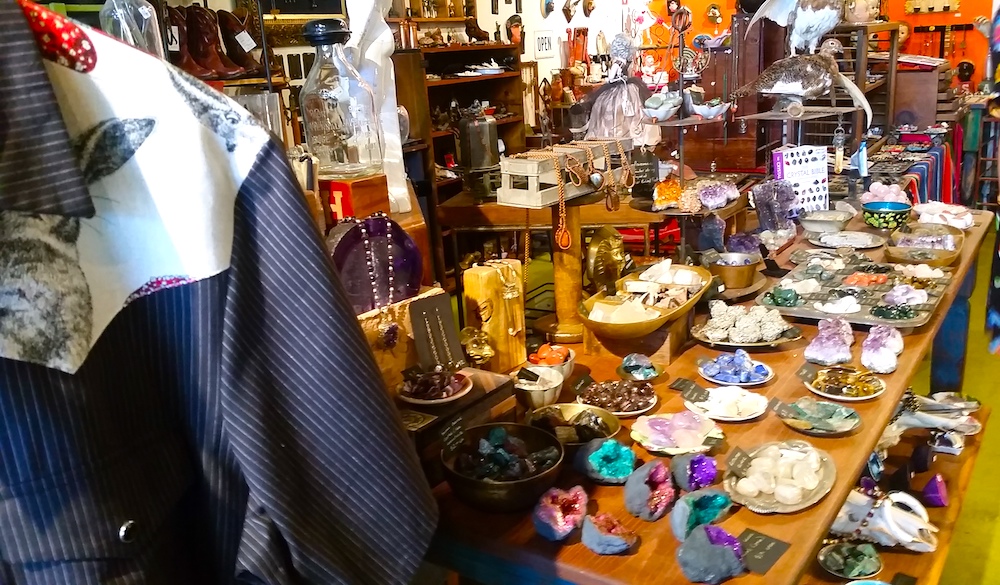 Handmade Jewelry at My Flaming Heart 
Beyond its array of costume and antique jewelry, My Flaming Heart features one-of-a-kind jewelry made in-store from collected objects.
Be on the lookout for creations from local makers Laura Cox, Y.E. Torres, Debbie Neuman Sakach, Indre Rapalaviciute, and Jo Bird.
And if you don't find anything that suits your personality, artists will gladly sort through the shop's selection of bizarre collectibles to craft your own custom piece.
Beads, Beads, Beads
Or if you're in the mood to do everything yourself, then check out the bead station. It's easy to lose track of the hours sorting through a wide variety of items just waiting to be transformed into necklaces, bracelets, and more.
Seriously, there are so many options. Think gnomes, mermaids, skulls, dragons, Buddha heads, devils, lucky charms, unicorns, and too many others to mention.
Did we mention there's beads?
Custom Tailored Women's Wear
If yesteryear and pin-up-inspired clothing is your thing, in-house tailor/owner Judy Masliyah is here for you.
With each piece sewn by Masliyah herself, this hand-tailored experience not only allows customers to pick the perfect pattern but also the perfect cut, with custom fitting offered before any needle touches fabric.
Styles span genres, including old school strapless, rockabilly halter, Marilyn pin-up, or cowgirl western. You'll also find a cheery selection of style and fabrics, including those patterned with strolling Day of the Dead couples, the Virgin Mary, Frida Kahlo, Buddhas, tikis, demons, and more.
About Mid Main 
Located in the city's Midtown Cultural Arts and Entertainment District, along the 3500 to 3700 blocks of Main Street, the cozy Mid Main neighborhood sits between the Houston Medical Center and Downtown.
The two blocks are home to theaters, shops, bars, art galleries, restaurants, and more. The entertainment hub fancies itself as a mosaic of Houston's eclectic local talents.
Looking for something right next door? Try the tiki-inspired Double Trouble for a well-crafted cocktail or coffee, get your Tex-Mex fix at Tacos A Go Go, or try your luck shopping for more oddities at The Place Upstairs.
Click here for our list of nearby Must Do Things in Midtown.
My Flaming Heart 
Location: 3622-C Main Street, Houston, TX 77002
Hours: Monday to Wednesday 10am to 6pm; Thursday to Saturday 10am to 8pm; Sunday 10am to 5pm
Phone: 713-533-1147
Parking: Metered street parking is available in the surrounding area until 6pm on weekdays. Free street parking is available in the surrounding area after 6pm on weekdays and all day on the weekends. We advise that you pay extra attention to parking signs in this area as heavy towing occurs in this area.