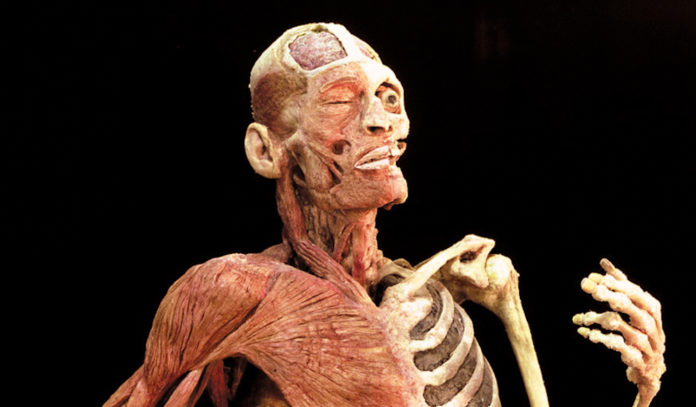 Don't miss your chance to get a look at the inner workings of real human bodies during the final week of the popular Body Worlds RX exhibit, on display at The Health Museum through Friday, April 28, 2017.
Featuring more than 75 real human body specimens that have been preserved through the process of plastination, Body Worlds RX gives visitors the closest look at the body's inner workings outside of a medical environment.
The massively popular exhibit opened on Saturday, January 14, 2017, and was extended from its original closing date by popular demand.
The traveling exhibit, now in its final week, illustrates how the human body responds to common diseases like diabetes, back pain, skin cancer, colon cancer, heart disease, lung disease, and eating disorders, among others.
From organs and muscles to the nervous system and skeletal structures, this anatomical exhibition gives a rare and unprecedented look inside the most sophisticated mechanism in the world, the human body.
The Plastination Process
Invented by Dr. Gunther von Hagens in 1977 (creator of the popular Body Worlds exhibitions) plastination is a complex technique that removes the fluids from the body and replaces them with liquid plastics. Once the plastics harden, the preserve the bodies perfectly and allow the display of many inner workings and organs.
The human specimens in Body Worlds RX at The Health Museum will show the striking comparisons and contrasts between healthy bodies and organs and those stricken with disease.
Highlights of Body Worlds RX
Cardiovascular Diseases – 

The leading cause of death in the United States, visitors will learn the functioning of the cardiovascular system while exploring the dense and long network of arteries and how they can be affected by common diseases.

Cancer – 

The dreaded "C-Word" is the second highest cause of death in the United States. Plastinated organs reveal cancerous tissues and tumor metastases.

Locomotive system – 

Learn how a sedentary lifestyle causes effects that are noticeable in our locomotive system. The exhibition illustrates the effects and causes of diseases and ailments such as arthritis, back pain, and other bone disorders are explained.

Dementia – 

More than 24 million people worldwide suffer from dementia. The fifth leading cause of death in Americans age 65 and older, the illness' impact is expected to increase dramatically. By 2050, 135 million people are expected to suffer from it. A multi-media installation shows the effects and helps visitors better understand the disease.

Smoking & the Lungs – 

It's well-known that smoking is unhealthy, but how many have seen it with their own eyes? One look at the blackened lungs of a smoker next to a pair vibrant healthy lungs is eye-opening. The exhibit provides a dramatic and convincing appeal to anyone who cannot give up smoking.

Obesity – 

Almost a quarter of kids aged 2 to 5 and a third of adolescents in the United States are overweight or obese. In Body Worlds RX, obesity is shockingly revealed with the juxtaposition of body slices from both an obese and a lean body.
About the Health Museum
The Health Museum is Houston's most interactive science learning center and a member institution of the world-renowned Texas Medical Center.
Visitors to the museum can walk through a larger-than-life human body, take a mini science class, watch an organ dissection and check out both permanent and temporary exhibits that cover topics like health, medical science, and the human body. The Health Museum is located in the heart of the city's Museum District.
Body Worlds RX: Prescriptions for Healthy Living at The Health Museum
Dates:

Through Friday, April 28, 2017

Times: Mondays to Wednesday 9am to 5pm; Thursday 9am to 7pm; Friday and Saturday 9am to 5pm; Sunday noon to 5pm.
Parking:

 Surface lot parking is available at the museum for $5; $3 for members.

Admission: 

Tickets are $10; $8 for ages 3 to 12 and seniors 65 and older; free for members and children 2 and under; free on Thursdays from 2pm to 7pm for families. Active and retired military personnel receive half-off admission for up to four people. General admission also provides access to the museum's multiple exhibits.

Click here for tickets or more information on museum hours

.
This article was sponsored by The Health Museum. Per our advertising and sponsorship policy, we only accept sponsored content from organizations that meet our editorial standards and truly present a valuable activity, event, resource or destination for residents and visitors across the greater Houston area. Advertising revenue helps support 365 Things to Do in Houston, and our contributors, allowing us to expand our coverage of activities and events around the Houston area. Click here to learn about promoting your event or business.