Snap a photo while you can in front of the larger than life Mural Project displayed temporarily on the exterior wall of Lawndale Art Center.
Located in the heart of the Museum District, this 3,200 square-foot concrete canvas plays host to regional artists each year and can be found on the north exterior wall of Lawndale Art Center.
Currently on display and pictured above is Los Angeles-based artist Russell Etchen's mural titled About __ Rocks which will be on view through the end of October 2017. When asked about his take on the Mural Project, Etchen stated that the rocks in his work represent many of our lives and how individualism, to him, is an illusion.
He is just one of many artists Lawndale has featured over the years in the Mural Project as the center continues to encourage artists to submit contemporary art concepts for the wall. Scheduling of the project is kept intentionally flexible to allow for work to be shown within six months of its completion; accordingly, nothing is scheduled more than one year in advance.
When visiting the wall, take a walk through the art center, as there's tons more work to see inside the building. Click here for more information on the Mural Project.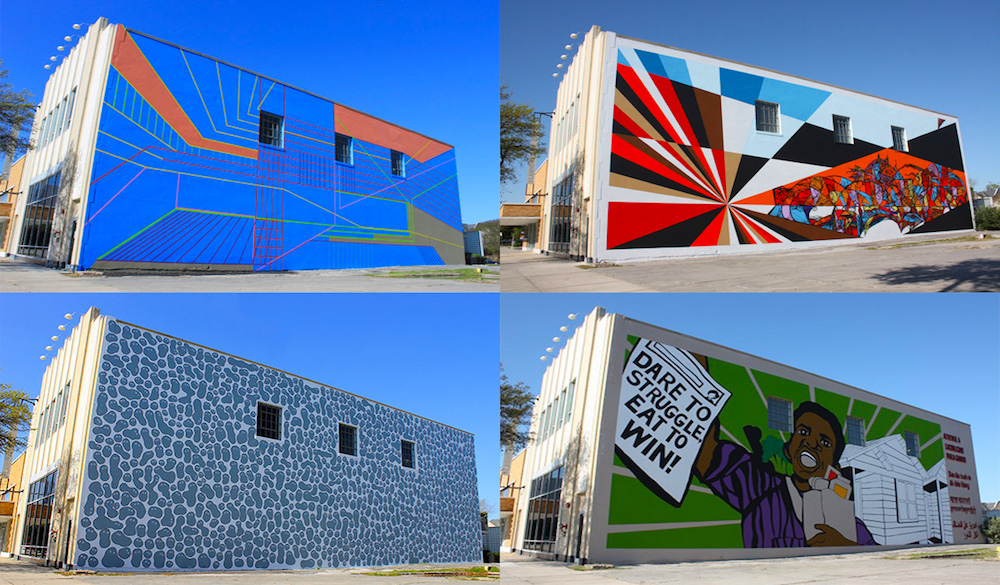 About Lawndale Art Center
Founded in 1979 by famed Houston artist James Surls, the Lawndale Art Center has  showcasing contemporary art on a local and regional level ever since. With an emphasis on work by Texas artists, the organization hosts more than 500 artists in over 20 exhibitions annually, participates in informal talks, and plenty of special events.
It remains Lawndale's mission to develop local contemporary artists with an audience for their work, so they're always accepting exhibition proposals for the six unique spaces Cecily E. Horton Gallery, Grace R. Cavnar Gallery, The Project Space, Mary E. Bawden Sculpture Garden, and of course, their north exterior mural wall. Click here for more information on Lawndale Art Center.
Mural Project at Lawndale Art Center 
Hours:

10am to 5pm daily at Lawndale Art Center; dawn to dusk at the mural wall. Use your best judgment when visiting after nightfall.

Parking: Free street and lot parking is available in the surrounding area at Rosedale and Travis
Admission:

Free to attend the museum and mural wall