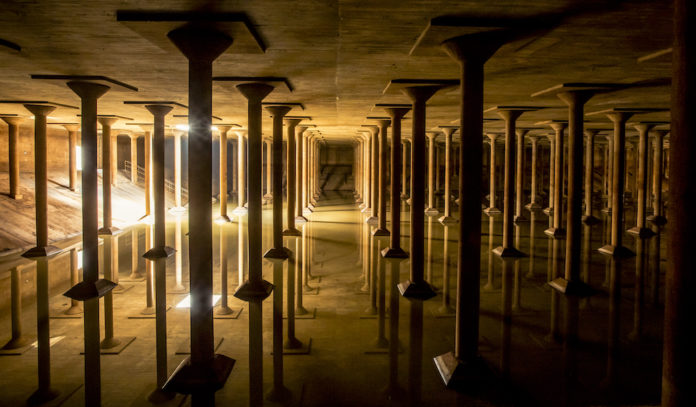 Tour an underground relic at the Buffalo Bayou Park Cistern every Thursday to Sunday.
The Cistern, reminiscent of the ancient Basilica Cistern beneath Istanbul, is a cavernous space the size of 1.5 football fields featuring 221, 25-foot tall, slender concrete columns underneath the Water Works at Buffalo Bayou Park.
Unused for years, this hidden gem's columns, set row upon row, appear to hover beautifully over two inches of water on the reservoir's floor with dramatic natural lighting provided by the entrance hatches above.
Thanks to support from The Brown Foundation, Buffalo Bayou Partnership is opening this industrial relic to the public, with plans in the near future to house temporary art installations in a unique public space.
Make Your Reservation
Every Thursday to Sunday attendees can reserve a 30-minute docent-led tour of Buffalo Bayou Park's underground wonderland.
No children under the age of 9 will be permitted. Click here to make your reservation.
History of The Cistern
Formerly a drinking water reservoir built in 1926 for the City of Houston, the Buffalo Bayou Park Cistern sprang an irreparable leak after operating for decades and eventually had to be drained completely. Somewhere along the way it had been all, but forgotten until recently.
Buffalo Bayou Partnership re-discovered the site in 2011 while developing their multi-million dollar Buffalo Bayou Park project. Realizing the historical and architectural significance of the highly unusual space, the organization along with the City of Houston, worked to take over management of the site to bring you The Cistern we know today.
The Cistern at Buffalo Bayou Park
Dates: Open for tours every Thursday to Sunday
Times: Thursdays and Fridays 3pm to 7pm; Saturdays and Sundays 10am to 5pm; Docent-led tours occur every 30 minutes
Parking: A number of parking options are available around Buffalo Bayou Park
Admission: Tickets are $2 per person for a 30-minute docent; no children under the age of 9 permitted. Free Thursday, but reservations are still required. Click here to make a reservation.