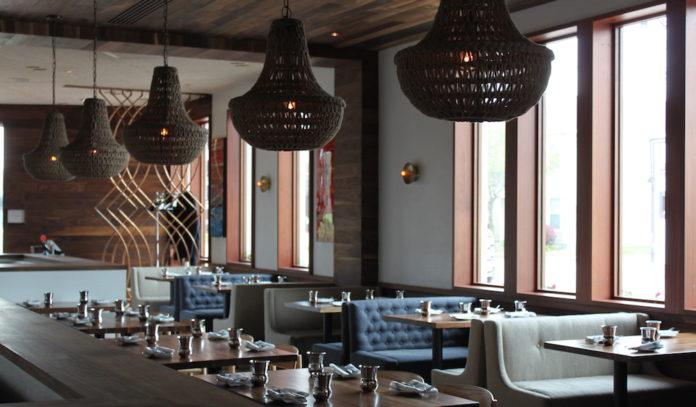 Indulge in Portuguese-inspired food, fine wines, fresh breads and more at elegantly comfortable Oporto Fooding House + Wine in Midtown.
Oporto is no stranger to crossroads, pairings and mash-ups. Perched perfectly where West Gray forks into Webster and Gray, the multi-faceted bakery, café, restaurant and bar has been welcoming savvy guests since January 2015.
Stepping through its doors, visitors enter a warm and inviting atmosphere that is at once both upscale and rustic. The aroma of freshly baked bread and culinary scents draft over from the open kitchen and bakery.
Conceived by chefs Rick and Shiva Di Virgilio of Rishi Hospitality, Oporto is a Portugese-inspired food and wine bar, similar to what you might find in a taberna in Lisbon or Porto. The name "Fooding House + Wine" itself is intended to convey the sense of a public eating house and place to gather to share drinks and conversation.
A husband and wife team, the Di Virgilios also own and manage Oporto Wine Café and the Queen Vic Pub & Kitchen, both on located on Richmond. Oporto Fooding House + Wine, which they sometimes affectionately call "O2," is the evolution of the concept the proved to be popular at the original Oporto since its opening in 2006.
Menu at Oporto
For dinner, Oporto is most noted for its tapas, or small plates, including selections pizzettes, charcuterie, cheeses, seafood, steak, pork, chicken and more. Although Portugal may be the inspiration, the menu draws influences from many international ports of call.
The small plates make for particularly popular lunch dishes. A favorite is the Prego Especial, a marinated hanger steak sandwich with ham, gouda cheese, lettuce, Campari tomato and garlic aioli on a madeira potato bun.  The sandwich's inspiration is the popular and widely consumed sandwich in Portuguese cuisine.
Other options curry chicken empanadas and camaroes piri-piri (gulf shrimp with garlic, lemon, madeira wine and olive oil piri-piri) alongside soups, salads and Oporto's signature paninis.
Oporto Fooding House + Wine
Location: 125 W. Gray St, #500, Houston, TX 77019
Phone: 713-528-0115
Hours: Monday to Wednesday 11am to 10pm; Thursday to Saturday 11am to 11pm; Sunday 11am to 3pm (Bar closes one hour later Monday through Saturday)
Happy Hour: Drink and food specials, including $5 wines by the glass, $4 draught beer, $5 sangria, $6 Caiprihinhas and $6 well drinks. Monday to Friday 3pm to 6:30pm
Brunch: Sunday 11am to 3pm
Reservations: Click here to make reservations online or call 713-528-0115.