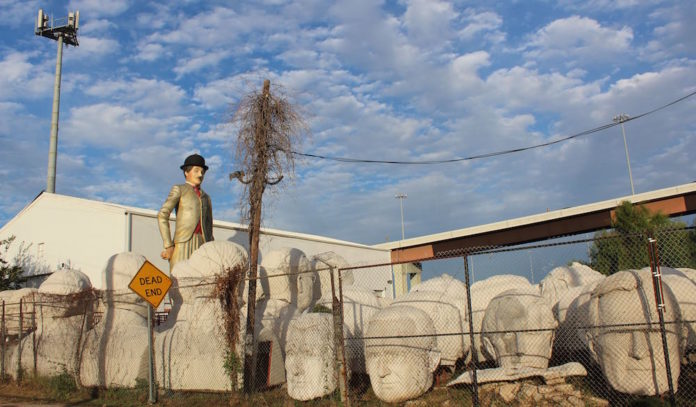 Drive past sculptor David Adickes' new studio on Nance for an eyeful of a colorful, 35-foot tall Charlie Chaplin surrounded by tightly corralled giant presidential heads.
The giant presidential busts and heads created by artist David Adickes have a new address and a new headliner in the northwest corner of the I-10 and highway 59 interchange. The new digs are a much tighter than their former home next to the giant Beatles statues across from Adickes' old studio on Summer Street and are fenced off from public access on most days.
However, you can still drive by and admire Adickes' handiwork, as well as his newest creation, a giant statue honoring silent film star legend Charlie Chaplin. The (not-so) Little Tramp is a larger-than-life tribute to the British actor.
Currently, visitors won't find many opportunities to interact with the statues, as they are all locked behind a chain link fence. Unless Adickes opens the gate and invites folks in for special events, it's private property and should be treated as such. Whereas the lot on Summer Street has been open access the last few years, this site is definitely not for casual strolls.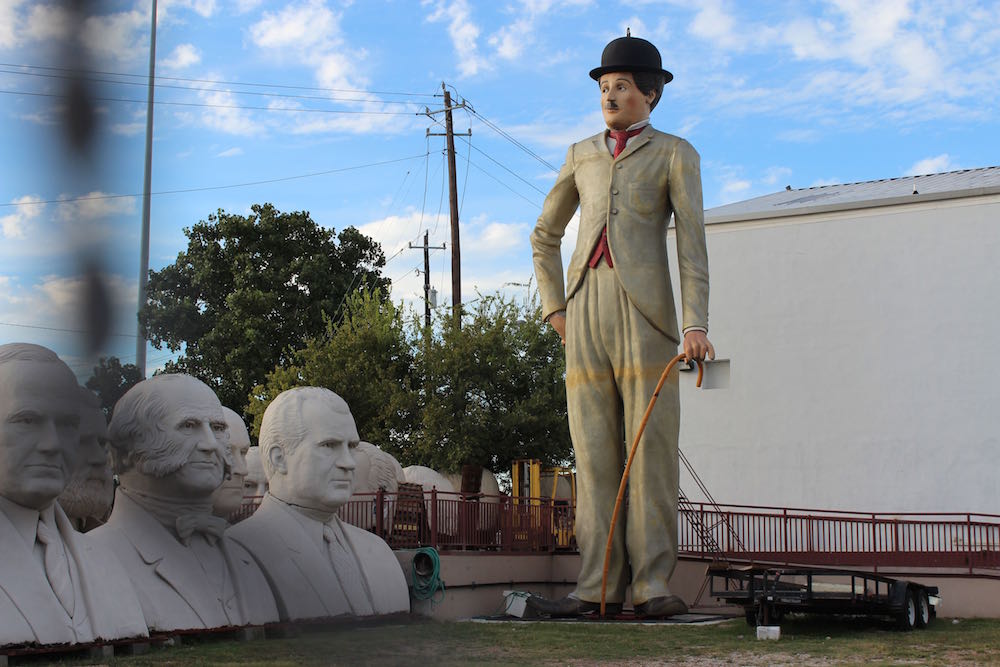 However, the 35-tall, full-color treatment of the classic star of early black-and-white cinema is worth the drive-by.
Charlie Chaplin Statue and President Heads
Viewing Hours: On most days, this isn't currently a destination where you can get out and walk around. However, it is best visible during the day. Nance can be a busy street and if you are taking children, it's best just to drive by and look from the car.
Parking: There is no parking lot for visitors, but there is usually plenty of street parking on the adjacent ransom street, which is itself a dead end.
Creator: David Adickes

Photo credit: 365 Houston