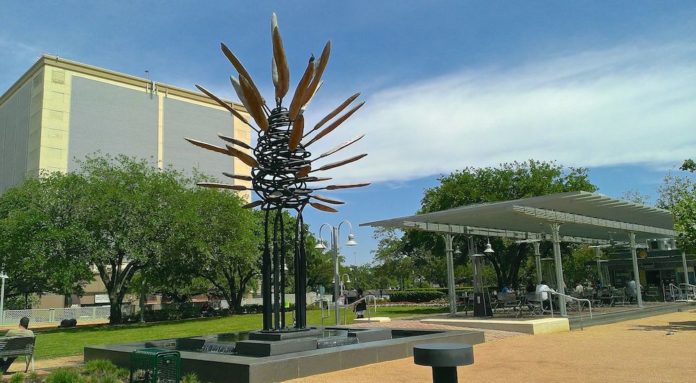 by Jill Jarvis, BigKidSmallCity
Grab your favorite little two-legged and four-legged friends and head to Downtown's chillest park.
Market Square was Houston's original town center. In 1836 this park was started as Congress Square and was renamed Market Square a few years later.
Market Square "burned through" three City Hall buildings and finally became a parking lot. In 2010, the renovated park was reopened.
This park is just about ten blocks from Discovery Green, but it has a vibe all its own. Business men and women stop by for lunch, dog owners use the dog runs and everyone enjoys the frequent events. All in all, it is much calmer than Discovery Green and is a good place to relax with the family.
The park has fountains, gardens, art work, a Niko Nikos cafe, shaded seating, trees to climb, grass to run in and two fenced dog areas. The park is only one block by one block, but a lot is packed into this urban space. Right across the street is the favorite "Houston is Inspired" mural by Gonzo247!
Enjoy the afternoon here or grab lunch and head to the nearby bayou. You can rent a bike from the B Station or walk the few blocks to that mysterious red button on the Preston Street Bridge, to the Downtown Aquarium or to the miles of trails along Buffalo Bayou.
Market Square Park in Downtown Houston
Hours: 6am to 11pm daily
Parking: ​Metered parking on street
Admission: Free