Stop in for a cocktail, craft beer and conversation at Grand Prize Bar, the Museum District's neighborhood bar with a Houston-wide clientele. 
Grand Prize Bar is essentially a neighborhood bar. It just so happens to have earned a particularly strong reputation in all the other neighborhoods, in addition to its home turf. This may be because Grand Prize Bar is a favorite industry spot, attracting the owners, chefs, bartenders and associated aficionados of many of Houston's other popular restaurants and bars.
But the casual bar remains approachable and welcoming to all. It's a laid back joint with a patio and second floor balcony, a talented bar staff and no pretension. Grand Prize Bar attracts a mix of people from different backgrounds and endeavors, so you never know who you'll see.
The shelves behind the bar itself is well-stocked and, like many Inner Loop watering holes, they take craft beers and cocktails seriously. You're likely to find a recently tapped special keg, batch of hard-to-find bottled craft beer, or unique liquors along with your old favorites.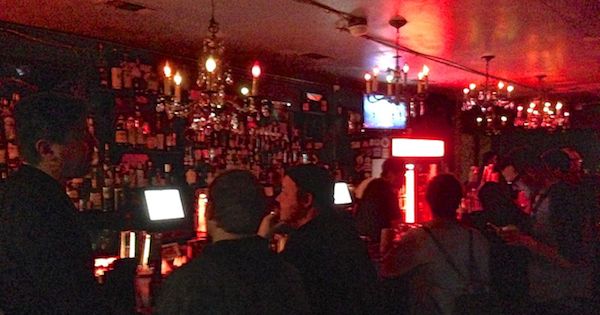 The establishment itself is somewhat nondescript. Aside from the outdoor balcony lit by strands of white holiday lights, the most noticeable feature are the red chandeliers and bordello lights hanging over the downstairs bar and in the upstairs lounge. However even those lights are simply stated, adding a distinctive touch to this low-key Houston favorite.
Grand Prize Bar