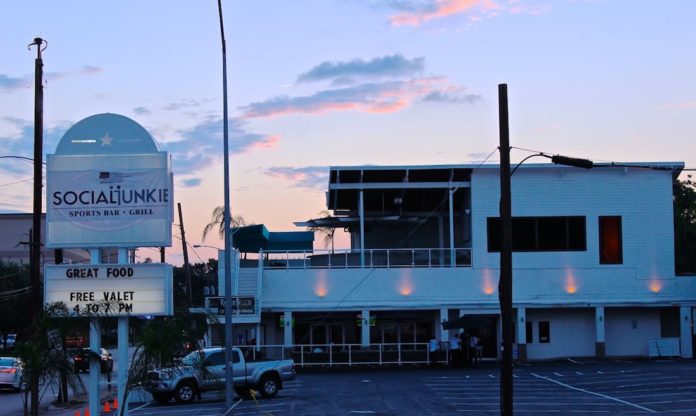 Update: Social Junkie is permanently closed.
Pull for your favorite on one of 30 HD TVs at the new upscale Social Junkie Sports Bar and Grill on Washington Avenue. 
With more than 3,00o square feet, three full bars including two patio bars, four private rooms available for private viewing parties, and valet service, the old Sawyer Park venue has been reborn as an upscale sports bar – in a white sport coat.
And with an accompanying, fresh all-white paint job, Social Junkie refutes many of the usual sports bar tropes. The facility still offers a killer view of downtown Houston. It still aims to be a place to be seen. But, fresh out of the box, its dedication to high quality sports experiences appears to be genuine.
It promise to offer viewing for college football, NFL, NBA, UFC, boxing, and other must-see sporting events. Social Junkie is also the host location of SportsTalk 790's new radio show The Reception with DeAndre Hopkins, which begins broadcasting on September 17, 2013. As the title suggests, the host is DeAndre Hopkins, starting wide receiver for Houston Texans, opposite of Andre Johnson. He was the Texans' number one draft pick from 2013.
Social Junkie is owned by the same group that previously operated Sawyer Park and says it will also be selectively based on attire. T-shirts are appropriate but tank tops are not.
Social Junkie Sports Bar & Grill on Washington
Phone: 832-338-3741
Hours: Monday to Thursday 4pm to midnight; Friday 4pm to 2am; Saturday to Sunday 11am to 2am