Pay your respects to your favorite departed or living U.S. president or Beatles member at this curious lot that's an apparent ongoing home to many of Houston artist David Adickes' grandest works.
UPDATE 7/24/15: The Beatles statues have also been relocated and joined the President Heads behind a fence on Nance Street. David Adickes plans to find a new location for them to be permanently enjoyed. The former hidden roadside attraction outlined in this article no longer remains. The history of David Adickes' works that were displayed there remains valid. 
UPDATE 11/8/14: The President heads and busts have been relocated to David Adickes' newest studio on Nance Street, joining his brand new Charlie Chaplin statue. The Beatles remain. As the lot is being converted into a parking lot, they may be relocated or paved around. 
If you nose around on Summer Street in the industrial neighborhood between Washington Avenue and the Target on the Katy Freeway, you're likely to spy the most incongruous site. When they are in residence (they usually are) the towering abstract statues of the Beatles, depicted in their Sgt. Pepper finery, instantly dominate your site lines.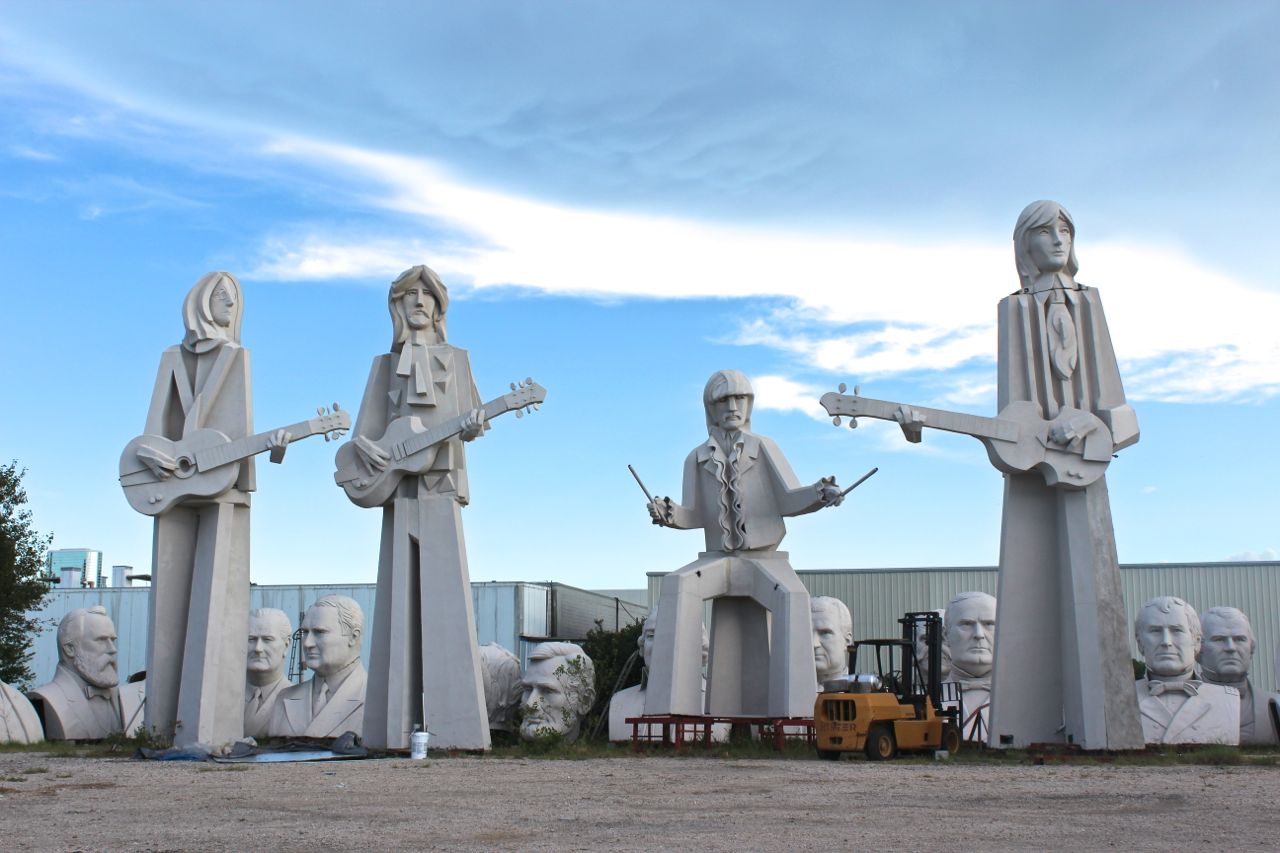 Houston Beatles Statues
John Lennon, George Harrison and Paul McCartney reach 36 feet tall with Ringo Starr coming in a good bit shorter (he's seated to play the drums). Each one weighs 7,000 pounds.
"Their creativity, their musicianship, their writing, their sense of portrait," Adickes told ABC 13's Cynthia Cisneros when she asked why he chose the Beatles in 2007. "They're just very creative guys."
If you really want to up your sensory experience for your visit, queue up Sgt. Pepper's Lonely Hearts Club Band for your arrival and your stroll through the site.
Houston President Head Statues
Adickes created larger than life seven-foot tall busts of 43 Presidents for display in parks in South Dakota and Virginia. When the parks closed, he brought the boys home. Although heads are moved around, and some may be missing, you can definitely start at George Washington and work your way to Barrack Obama. Though some may be missing, you can spy recent leaders of the free world including Houston's George H. W. Bush, Bill Clinton, George W. Bush, Ronald Reagan and Richard Nixon. A haggard Andrew Jackson looks like he stepped out of a larger-than-life $20 bill. If you're more focused on national history than 20th pop culture during your visit, eschew Sgt. Pepper's and load up "Hail to the Chief."
A true Houstonian and Texan at heart, Adickes also crafted busts of our city's namesake Sam Houston and his rival, "Father of Texas" Stephen F. Austin (we think they named a town after him too), which are typically hanging around on site. Both of their busts can also be found alongside George Washington and Abraham Lincoln at Adickes' "A Tribute To American Statesmanship" also known as "Mount Rush Hour" at the intersection of Interstates 10 and 45.
Adickes SculpturWorx Studio
Adickes actually closed his studio in 2010, when he relocated to Huntsville. But the facility itself has benefited from new artistic life. It's now home to a number of artists, galleries and a few art boutiques, with more additions planned. In the meantime, the Presidents' noggins and Beatles statues have hung out in the lot across the way.
Until recently, the site was also a storage ground for Adickes' popular "We Love Houston" sign, which he relocated to a small lot he owns alongside the Katy Freeway between Shepherd and Heights Boulevard. The new location is the sign's permanent home.
The Beatles & President Head Statues at Adickes SculpturWorx Studio
Viewing Hours: Daylight viewing only is encouraged. The lot is technically private property and not a park or public destination. However, respectful visitors will find that they are frequently able to pose for photos and walk amongst the assorted presidents' heads, Beatles and even headless busts. The lot changes over time, sometimes with little notice, and is sometimes used for private and public events. So look for and respect any and all posted notices and use common sense.
Parking: There is typically parking in front of the lot, but it is there to support the local arts businesses, studios and shops which have taken residence in Adickes' former design studio. So be mindful of their needs and usage.
Creator: David Adickes