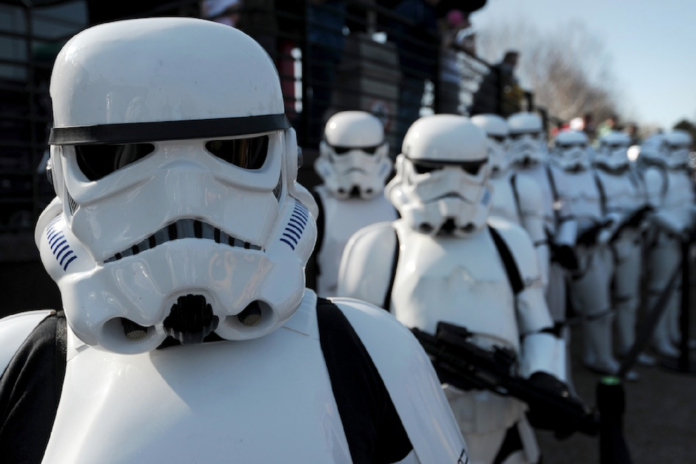 Pick a side as Battlefield Houston presents "The Empire vs. the Rebellion," a laser tag adventure storyline featuring fully costumed Stormtroopers from the local 501st charity group, on Saturday, August 10, 2013 from 2pm to 6pm.
About eight stormtroopers and Darth Maul will be on hand for Saturday's adventure at the largest indoor tactical battlefield in the U.S. There will be a full four-hour storyline, but you won't need to partake in the whole afternoon. You can register for one-hour and 30-minute sessions and play is available to anyone age 8 and older. There will definitely be adults playing.
Participants are encouraged to wear Star Wars costumes and those who do will receive a $5 discount off an hour of play, $2 off for 30 minutes of play, or $15 off if they want to commit to the storyline and play all four hours.
All sessions involve players on the side of the Empire battling the Rebel Alliance. Two scenarios also include Jedi in the mix as well.
Scenarios and games start at 2pm, 3pm, 4pm, 4:30pm, 5pm, and 5:30pm. You can reserve your spot for one or all in advance at Battlefield Houston's website. You can register at the door on the day of the event, but we highly encourage you to reserve your spot in advance.
"The Empire Vs. the Rebellion" at Battlefield Houston
Date and Time: Saturday, August 10, 2013, 2pm to 6pm
Admission: Prices vary based on the length of play and particularly scenario in the storyline. But you can play for 30 minutes for as little as $12. One hour segments are $20, $30 or $35. The full four-hour storyline is $100. Discounts are available (listed above) for participants wearing Star Wars costumes. Click here to see full price details.
Register: Click here to reserve your spot in Battlefield Houston's "The Empire Vs. the Rebellion," a Star Wars laser tag Houston adventure.