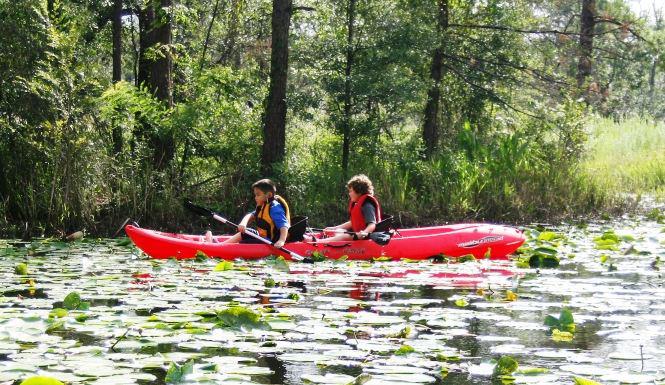 Pick an activity for your family to enjoy together while you learn about our native Houston wildlife: stroll the boardwalks, learn hands-on in the Discovery Room, or stay up late for the moonlight tour (complete with dinner, mom). You can also sign up your older child for a variety of summer camps.
Located right next to Memorial Park, the Houston Arboretum and Nature Center is a prime activity for a wide range of ages and is a free outing for a family. If you're looking for a quick activity, take a stroll through the luscious sensory garden and encourage your troupe to experience nature through smell and touch. Be sure to keep your ears tuned in to the talkative birds, as well. The Houston Arboretum is proud of their new multi-sensory trail that opened in 2011 specifically for those with visual impairments. It's a great way for everyone to experience nature using our senses other than sight.
If you have more time to spend at the Houston Arboretum and Nature Center, see if the Discovery Room is available for you and your family to explore. This interactive exhibit has microscopes, a "Learning Tree", and a variety of puzzles for the family to solve together. The naturalist who assists the visitors encourages hands on learning, so if you have a family member who cant keep their hands to themselves, this is a great place to go! Just be sure to call ahead to be sure the room is open because it can be reserved for large groups and schools.
The Arboretum offers camps throughout the summer and activities for pre-schoolers during the school year. They also have a night time tour that includes a bar b que dinner with wine/bear for the adults. After dinner, the group joins the Houston Astronomical Society in the meadow for a view of our sky at night complete with telescope.
When you plan your day time visit be sure to eat or snack before you enter. They do allow snacks and have some vending options on sight but picnicking is not allowed. Your family can pick nic at Memorial Park or at Beck's Prime right inside the park. Strollers are, of course, allowed. If you're looking for the smoothest path for a walk, choose the Alice Brown Loop.
Houston Arboretum and Nature Center
Hours: 7am to dusk daily, call or check their website for building hours and seasonal changes
Location: 4501 Woodway Drive, Houston, Texas 77024
Parking: Free
Admission: Free entrance to the grounds and buildings. Special events might require registration and a fee.